A Generation of Sociopaths By Bruce Cannon Gibney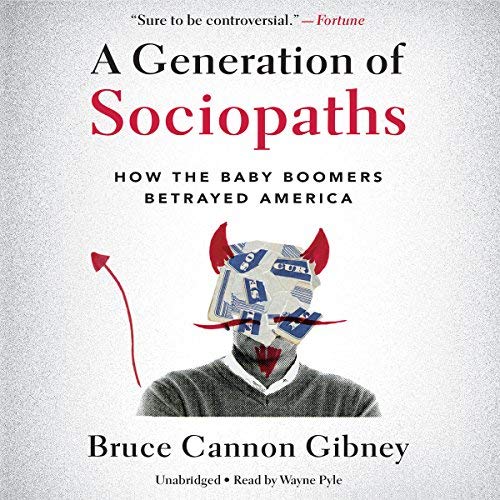 Narrated by: Wayne Pyle
Length: 14 hrs and 49 mins
Release date: 03-07-17
A Generation of Sociopaths AudioBook Summary
What happens when a society is run by people who are antisocial? Welcome to baby boomer America.
In A Generation of Sociopaths, Bruce Cannon Gibney shows how America was hijacked by the boomers, a generation whose reckless self-indulgence degraded the foundations of American prosperity. A former partner in a leading venture capital firm, Gibney examines the disastrous policies of the most powerful generation in modern history, showing how the boomers ruthlessly enriched themselves at the expense of future generations.
Acting without empathy, prudence, or respect for facts – acting, in other words, as sociopaths – the boomers turned American dynamism into stagnation, inequality, and bipartisan fiasco. The boomers have set a time bomb for the 2030s, when damage to Social Security, public finances, and the environment will become catastrophic and possibly irreversible – and when, not coincidentally, boomers will be dying off.
Gibney, whose 2011 essay "What Happened to the Future?" transfixed the investment world, argues that younger generations have a fleeting window to hold the boomers accountable and begin restoring America. Distilling deep research into a witty, colorful indictment of the boomers and an urgent defense of the once-unquestioned value of society, A Generation of Sociopaths is poised to become one of the most controversial books of the year.
File Size: 364.19 MB
Download
https://rg.to/file/2cd5a0f56644ce23d8453dac299b5bb8/Bruce_Cannon_Gibney_-_A_Generation_of_Sociopaths.zip.html